Coop wants to be challenged on threats and risks
Choosing new insurance partners
Coop is Denmark's biggest food retail company. Last winter the company put most of its insurance arrangements out to tender.
With almost 1,200 stores, more than 40,000 employees and more than 45,000 article numbers on the shelves, there were certainly plenty of criteria in the tender material for a new insurance partner to satisfy. The choice fell on If. Ulrik Mester ran the process together with the insurance broker Marsh and was involved in most of the details of the process.
"In both words and actions, If lived up to what we in Coop believe will be a favourable partnership. We place emphasis on partnerships and on having a sparring partner who can help to boost and optimise Coop. That was the approach and the attitude we met throughout the entire process, and that was one of the most compelling reasons why we switched to If," explains Ulrik Mester.
Coop adopts a serious approach to risk management and can produce a number of results in their setups to support the fact that they stand by their words. "The fact that If has an active risk management department and a number of risk engineers is a definite advantage for me and for Coop. We believe ourselves that we do a great deal, and we're also recognised for that.
But we're always open to the possibility that we might be able to do things better. There's a significant difference between being advised in advance to optimise your loss prevention and having to appear as counterparties after a potential claim.
"I welcome any push from an insurance advisor. We know our internal needs and procedures, but we're not up to date with what new kinds of cover there are or with other ways of doing things. It makes us stronger when we're challenged by the demands we make of ourselves and the way we cover ourselves," says Ulrik Mester. He views it as his task to channel that knowledge down into the organisation and to make sure that it is implemented.
"Both Coop and I personally place great emphasis on the attitude of those people with whom we're going to work together," says Ulrik Mester, Chief Risk Officer i Coop.
Prevention, prevention, prevention
What does a Chief Risk Officer in Denmark's biggest food retail company think about the threat level of the future? "Well, being able to enter data in the cash tills is absolutely essential for us. So there's an enormous threat if we're suddenly unable to do that. It's absolutely fundamental that the technology has to work, so that staff can order the products they need to have on the shelves.
So there are strict demands on the IT system that supports that part with regard to opening hours, data volumes and data processing, so that in-store staff can enter data into the cash tills and get a receipt out."
It's absolutely fundamental that the technology has to work.
One constant consideration in Ulrik Mester's job is whether the current setup is safe enough. He considers fire to be one of the worst kinds of damage, and a lot of emphasis is placed on minimising risks and having guidelines, for example, for the location of cables so that they are not worn by overheating chiller cabinets, the correct location of combustible materials outside the stores, etc.
During the violent downpour in Copenhagen in July 2011, around 60 of Coop's stores were affected by water. That is difficult to prevent, but on the other hand it is the kind of damage that can be dealt with relatively quickly.
"There are few areas of cover that we haven't finally decided on yet. We'll have an extra discussion about the
possible scenarios and get a very clear picture of what kinds of risk we have today, and what we can do ourselves to minimise them. And we'll supplement them if we feel that there's a need. This is where you appreciate the value of a competent sparring partner," concludes Ulrik Mester
Coop in Denmark
Denmark's biggest food retail company.
Coop consists of almost 1,200 stores.
Coop has 45,000 article numbers.
1/3 of all food products in Denmark are sold by Coop.
Processes more than 6 million transactions per week.
Coop's total retail space is 1 million square metres, which corresponds to approx. 140 football pitches.
Every year, Coop's trucks drive 30,000,000 kilometres – equivalent to 50 return trips to the moon.
Coop has more than 40,000 employees and 1,000 students.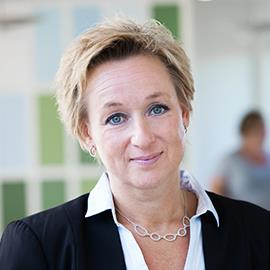 Birgitte Ringbæk
Head of Information, Denmark, If
Published in Risk Consulting Magazine 2/2017